I have some revealing, first-hand news which may affect all ND owners as the mileage accrues.
I have had TeeVee (OW15 TVV) for just over 3 months now. Purchased from BMW dealer, Sytners Coventry, it was in overall excellent condition with a fresh MOT and had covered 28,000 miles.
It was driven all the way home with hood down and the car sounded good and drove very well.
However, a few days later when I had my licence reinstated, I drove out with the hood up due to weather conditions and noted that the rear suspension had a slight, intermittent knock on rough road surfaces, which I hadn't heard on the way home from Coventry.
A cursory inspection revealed nothing untoward, so as it was only slight I lived with it for a bit, but it it was getting slightly worse. When it's four-yearly service was due two weeks ago at 31,000 miles I asked Vospers Mazda (Exeter) for a full inspection - and what they found was a real shock!
The bushes in the cast aluminium uprights (or hub carriers) were found to be worn and had excessive clearance causing the knocking I could hear. I asked if the bushes could be changed, but was told that they are not available separately and THE WHOLE CASTING HAD TO BE CHANGED BOTH SIDES AT A COST OF £1,372.60 !!!!! That's nearly £500 per side + 4 hours labour!!!!!
Remember this is a low mileage, 4 year-old car with full Mazda service history.
Once I had recovered from the shock, I went into full Kev5 attack on Mazda UK (again!) I told Vospers that this type of suspension failure is outrageous on such a low mileage vehicle and is totally unacceptable. I also told them that if Mazda UK will not contribute a substantial goodwill payment towards the cost of repair I will be talking to BBC Watchdog.
Vospers were very helpful at this point, after all it wasn't their fault, so they phoned Mazda UK there and then. Most surprisingly Mazda's response was uncommonly positive and without further ado they offered to contribute 80% of the total cost, despite the car being a whole year out of warranty.
This was far more than I expected from Mazda, who are normally recalcitrant, especially outside of the warranty period. I can only deduce from this that they are aware of a weakness in the rear suspension design and durability - maybe their obsession with lightness has gone a little too far with some of the ND componentry.
More worryingly Vospers did admit that my car is the second ND they have done recently, so I fear there will be more going down this onerous and expensive route as age and mileage accrue.
I do not wish to cause unnecessary alarm to ND owners here on 'life' but I feel I have a duty to bring this potential rear suspension design/durability failure to the attention of all you good ND folk.
I must also add that after the repairs, Vospers gave TeeVee a full 4-wheel alignment on their Hunter equipment and it now drives like new.
So it should!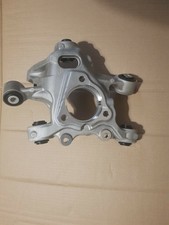 [Image taken from the internet]