Discussion Starter
·
#1
·
Here's a quick how to, with pictures, for replacing the
MX-5 Mk3 battery
in the remote keyfob unit.
1. Firstly, your key should look like this.
2. Look closely at the key recess, there's a small plastic hole and tab.

3. Insert a small flat bladed screwdriver into the hole and carefully but firmly push the main "remote" unit down and away from the top "key section" as shown.
4. The two sections should come apart easily from this point.

5. Let's take a closer look at the main unit body. See the white triangle? It's pointing to a recessed tab shown by the red arrow in the picture. Use the small bladed screwdriver to lift the top section apart. It's quite tricky if the unit has never been opened before.
6. You should now have two halves. Note the battery location and the polarity. Very gently, flip the battery out with the screwdriver.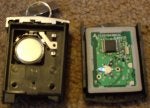 7. Ping! The battery type is a
CR1620 3V cell
. Often found at watch repair or key cutting shops. They're usually cheaper per unit online, though you may wind up buying several.
8. Pop your new battery in place, again remembering the polarity. It should be as shown: negative side up, positive side down.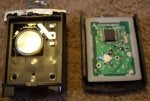 9. Fix the two halves of the "remote" section together firmly.
10. Slide the "key section" back onto the "remote" section and you're done.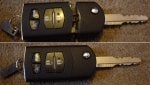 All attached thumbnails in sequence: