Hi all!
I thought I'd make a post to keep track of my first ever MX5 as I clean her up, maybe add a new exhaust and a few other bits that I might or might not do. For now I have only given her a quick clean to look for scratches and chips, of which there are a few, but she has done 67,000 miles so it was expected. I have also cleaned and protected the fabric roof as it was kept under the included hard top for much of the time it's been around and I don't think it had been cleaned/treated for a while.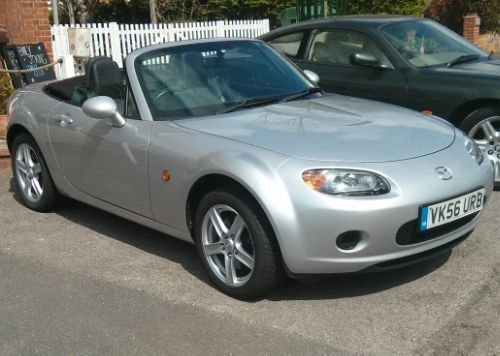 I'm hopefully going to have a go at getting rid of all that horrible rust around the brakes and calipers, first trying some Hammerite rust remover and if that fails I'll be sourcing a way of skimming it off or just replace the discs. I'm hoping the calipers will be cleaned with just the hammerite and some elbow grease but the discs look quite bad around the outer edge.
(If anybody knows a good place to get new discs for a decent price I'd really appreciate it!)
The stone chips are mostly on the plastic bits on the front but a couple are on the metal, which looks like it is beginning to rust in a bubble on the bonnet and a chip on the frame above the window. So a quick sand, prime and repaint will be in order at some point.
The side windows have some hairline scratches where I assume is where some dirt has got into the rubber bits and has marked the windows as they raise and lower. The direction of the lines would suggest that. I'm hoping a good session with some glass polish will get rid of those this coming weekend.
I've had her for about a week and she runs very well mechanically, but I will be giving her an oil and filter change and get a nice new airfilter as I think the original is still in there.
But for now I'm justing having fun driving her around with the roof down!
Ryan